Massey Ferguson 375 (2WD): Super Charge Your Farming
If you're looking to purchase a robust, dependable, cost-effective Massey Ferguson 375 tractor in Pakistan, you've come to the perfect place. Here, we will explore the intricate details of this powerful machinery and explain why it is an excellent option to fulfill your agricultural requirements. Discover the advantages of the MF 375 tractor for sale in Pakistan, including its exceptional performance, reliability, and affordability. Whether you need an MF 375 tractor or seek a Massey Ferguson (2WD) 375, rest assured that you'll find the ideal MF 375 2WD tractor to meet your needs right here.
Table of Contents
---
Overview of Massey Ferguson (2WD) 375 Tractor
The Massey 375 tractor, a part of the globally acclaimed Massey Ferguson brand, is a two-wheel-drive (2WD) tractor known for its robustness and high performance. Not only does it offer exceptional power, but it also promises durability and fuel efficiency.
---
Key Features of MF 375 (2WD) Tractor
Now, let's get down to the nuts and bolts of this mechanical beast and explore its key features.
Engine Specifications
The heart of the 375 tractor is its powerful 75 horsepower engine that ensures optimal performance across various farming operations. With a 4.41 L direct injection diesel engine, it guarantees powerful plowing and pulling ability.
Transmission Details
The tractor is equipped with a sliding spur type transmission, offering 8 forward and 2 reverse speeds. This broad range of speeds provides flexibility for different farming tasks, from plowing to transportation.
Fuel Capacity and Efficiency
With a fuel tank capacity of 108 liters, this Massey 2WD tractor can operate for extended periods without frequent refueling. It is also designed for fuel efficiency, reducing operational costs in the long run.
| Key Features | Description |
| --- | --- |
| Model | MF 375 |
| Type | 2WD Tractor |
| Engine Power | 75 horsepower (HP) |
| Engine Type | Turbocharged, Direct Injection Diesel Engine |
| Transmission | 8 Forward and 2 Reverse Gears |
| PTO (Power Take Off) | 540 RPM and 1000 RPM |
| Hydraulic System | Live Hydraulic System with Position Control |
| Steering | Hydrostatic Power Steering |
| Fuel Tank Capacity | 84 liters |
| Weight | 2,175 kilograms |
| Tires | Front: 7.50-16, Rear: 18.4/15-30 |
| Dimensions | Length: 3,730 mm, Width: 1,910 mm, Height: 2,600 mm |
---
Why MF Tractor is a Great Choice
Now you may wonder, why should I choose the MF 375 (2WD) tractor?
Versatility and Utility:
The 375 tractor excels in various tasks, such as plowing, planting, harvesting, and haulage operations
Durability and Reliability:
Renowned for its robust construction and high-quality components, the 375 tractor ensures durability and consistent performance, even in challenging conditions.
Value for Money:
With its outstanding features, durability, and performance, the MF 375 (2WD) tractor provides excellent value for money. It proves to be a worthwhile investment in the long run.
---
MF 375 2WD Tractor: An Ideal Choice for Pakistani Farms
But why is the MF 375 particularly suitable for Pakistani farms?
Suitability for Pakistani Terrain
The 2WD version of the Massey Ferguson tractor is ideal for Pakistani terrain. It offers excellent maneuverability and control, making it perfect for the varied agricultural landscapes across the country.
Economical Maintenance
Another reason why the 375 tractor is popular in Pakistan is its economical maintenance. The tractor is designed for simple and low-cost upkeep, making it a practical choice for local farmers.
Availability of Spare Parts
One of the key factors in choosing a tractor is the availability of spare parts. With the Massey 375 tractor, finding spare parts in Pakistan is easy, reducing potential downtime due to repairs or replacements.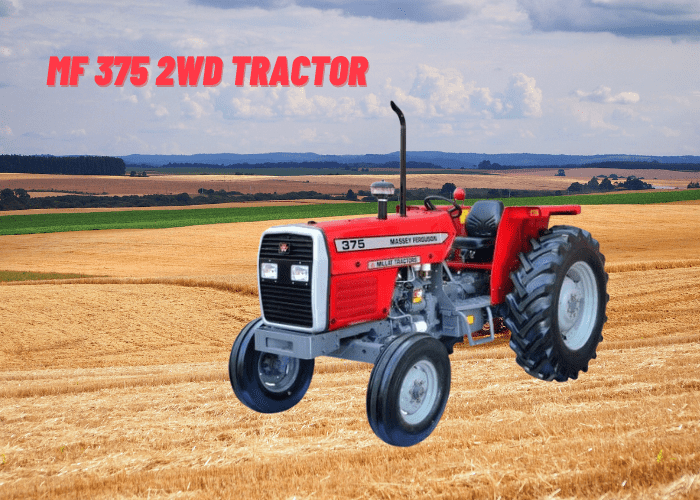 ---
How to Buy a Massey Ferguson 375 Tractor in Pakistan
So, how do you go about buying agricultural machinery in Pakistan?
New vs. Used: Pros and Cons
Whether to buy a new or used (2WD) 375 tractor for sale is a major decision. A new tractor offers a manufacturer's guarantee and often a higher level of performance. However, a used tractor can be a more affordable option, especially if it's in good condition.
Checking the Tractor's Condition
Before purchasing a used MF 375 agriculture machinery, it's crucial to inspect its condition thoroughly. Look for signs of wear and tear, check the engine performance, and verify the overall functionality.
Negotiating the Price
Lastly, negotiation is part of the buying process. Always remember, the asking price is often flexible. Don't be afraid to negotiate to get the best deal for your budget.
Ready to Power Up? Get Your MF 375 tractor at Agricomplex!
Massey Ferguson 375
---
Pros and Cons of Massey 375 Tractor
| Pros | Cons |
| --- | --- |
| Robust and durable construction | Lack of four-wheel drive option |
| Reliable performance in various agricultural tasks | Limited range of transmission gears |
| Availability of spare parts and after-sales support | Higher fuel consumption compared to some models |
| Versatile compatibility with implements | Limited height adjustment for some attachments |
| Cost-effective and economical operation | Relatively higher weight |
| Wide availability in the Pakistani market | Limited seating capacity for operators |
| Trusted brand reputation of Massey Ferguson | Higher initial investment compared to smaller models |
---
Conclusion
Whether you're a small-scale farmer or managing a large agricultural enterprise, the MF 375 for sale in Pakistan can revolutionize your operations. With its exceptional power, long-lasting durability, versatile capabilities, and cost-effective maintenance, the 375 tractor is the perfect solution for farming in Pakistan. Whether you specifically seek the MF 375 2WD tractor, this reliable machine will meet your needs and surpass your expectations. Get ready for a productive and successful farming journey with the Massey Ferguson tractor. Happy farming!
---
Frequently Asked Questions (FAQ's)
What is the price range of the MF 375 tractor in Pakistan?

The price can vary depending on whether it's new or used, and its overall condition. Always check with local dealers for the most accurate price.
Is the MF 375 tractor suitable for all types of farming activities?

Yes, the MF 375 tractor is versatile and can handle a wide range of farming tasks, from plowing to harvesting.
How fuel-efficient is the MF 375 tractor?

The MF 375 tractor is designed for fuel efficiency, which can significantly reduce operational costs over time.
Is it easy to find spare parts for the MF 375 tractor in Pakistan?

Yes, spare parts for the MF 375 tractor are readily available across Pakistan.
Can the MF 375 tractor operate on rough terrain?

Yes, the 2WD version of the MF 375 tractor is designed for excellent control and maneuverability on varied terrains.
---
Related Articles
Discover the best deals on the Massey Ferguson 375, a powerful MF 375 Tractor now available for sale in Pakistan. Explore MF 375 2WD Tractor models, trusted for their robust performance and versatility. Don't miss out on your perfect MF 375 tractor for sale in Pakistan only on Agricomplex!

Experience power and performance with the MF 455 tractor at Agricomplex. This robust machine is designed to tackle the toughest farming tasks and offers unmatched reliability and efficiency. With advanced features and superior technology, the MF 455 tractor empowers farmers to maximize productivity and achieve exceptional results. Explore its capabilities and unleash the true potential…

Tractors are essential in farming as they help farmers do many jobs more efficiently. One brand that's well-known and liked by farmers in Pakistan is Massey Ferguson. Massey Ferguson tractor prices in Pakistan vary based on the model, specifications, spare part availability, and market competition. To buy one, explore authorized dealerships, compare Massey Ferguson tractor…
looking to purchase a Massey Ferguson tractors? Visit our Agricomplex website to explore our wide range of Massey Tractors.
---
People Also Asked (PAA)
Where can I find a MF 375 tractor for sale in Pakistan?

You can find an MF 375 tractor for sale in Pakistan through local dealerships.
What is the price range for MF 375 tractors in Pakistan?

The price range for MF 375 tractors in Pakistan varies.
Can I get financing options for purchasing an MF 375 tractor in Pakistan?

Financing options are available for purchasing an MF 375 (2WD) tractor in Pakistan.
Are spare parts readily available for MF 375 tractors in Pakistan?

Spare parts for MF 375 tractors are readily available in Pakistan.
What is the fuel efficiency of MF 375 tractors?

MF 375 tractors have good fuel efficiency.