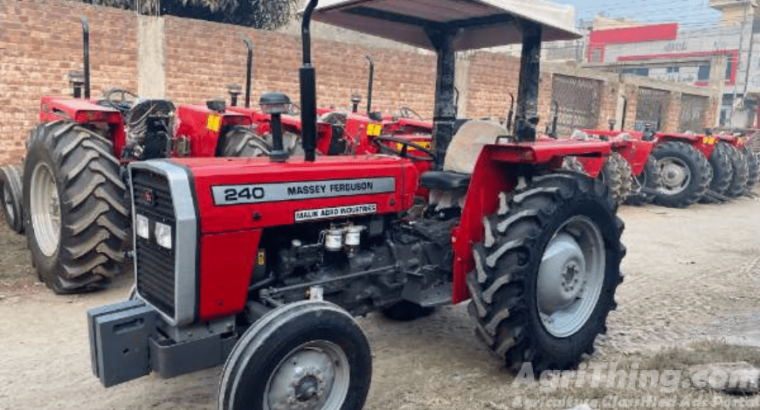 Massey 240 Price in Pakistan: Best Deals & Tips
Are you looking for the best price on Massey 240 tractor for sale in Pakistan with expert buying tips to save money. Suppose you're a farmer searching for a Massey 240 price in Pakistan and looking for a reliable and affordable tractor. In that case, the Massey Ferguson 240 is an excellent choice. This blog post will provide easy-to-understand information about the mf 240 price in Pakistan, comparisons, and tips to help you get the best deal possible.
Table of Contents
---
Massey 240 Price in Pakistan
Secure the best Massey 240 price in Pakistan with our ultimate guide on where to buy and negotiation tips. Massey Tractor 240 price in Pakistan might differ based on a number of variables, including the tractor's age, condition, and location.. On average, you can expect to pay between PKR 1,000,000 and PKR 1,200,000 for a new Massey Ferguson 240. However, you can find lower prices if you're willing to buy a used tractor.
---
Specification about Massey Ferguson 240
Performance:
| | |
| --- | --- |
| Engine power | 50 B.S. hp at 2,250 rpm |
| Torque | 172 Nm at 1,400 engine rpm |
| PTO power | At rated engine speed |
Engine:
| | |
| --- | --- |
| Type | AD 3,1524 Diesel |
| Number of Cylinders | 3 cylinders with direct injection |
| Bore and Stroke | 91.5 mm bore and 127.0 mm stroke |
| Engine Capacity | 2.5 liters |
| Compression Ratio | 16.5:1 |
| Aspiration | Natural aspiration |
| Starting Aid | Thermostart |
| Throttle Control | Hand and foot throttle control |
| Cooling System | Water-cooled |
| Air Cleaner | Oil bath air cleaner with an over bonnet air pre-cleaner |
| Fuel Filter | Dual, high capacity fuel filters |
| Exhaust System | Vertical exhaust |
Electrics:
| | |
| --- | --- |
| Voltage | 12V, Negative Earth |
| Battery | 118 Ah capacity |
| Starter Motor | 2.2 kW power |
| Alternator | 32 Amp output |
Clutch:
| | |
| --- | --- |
| Clutch Type | Dual clutch |
| Diameter | 305 x 254 mm |
Transmission:
Number of Gears
8 forward gears and 2 reverse gears
Road Speeds at 2,250 engine rpm with 12.4/11-28 rear tires
Forward 1st (first low): 2.5 km/hr
2nd: 3.7 km/hr
3rd: 5 km/hr
4th: 6.7 km/hr
5th (first high): 10 km/hr
6th: 14.7 km/hr
7th: 20.1 km/hr
Forward 8th: 27 km/hr
Reverse 1 (low): 3.4 km/hr
Reverse 2 (high): 13.6 km/hr
Capacities:
| | |
| --- | --- |
| Fuel Tank Capacity | 47.5 liters |
| Engine Sump Capacity | 6.8 liters |
| Cooling System Capacity | 10.2 liters |
| Hydraulic System Capacity | 33.0 liters |
| Steering Box Capacity | 0.9 liters |
| Oil Bath Air Cleaner Capacity | 0.65 liters |
Power Take OFF:
| | |
| --- | --- |
| PTO Type | Live |
| Engine Speed at 540 PTO rpm | 1,789 rpm |
| Shaft Diameter | 35 mm |
| Number of Splines | 6 |
Steering:
Rear Axle and Brakes:
Brake Type
Actuation
Outboard drum brakesMechanical, with the option for independent or locked-together operation
Parking Brake
Hand lever
Differential Lock
Mechanical
Tyres:
| | |
| --- | --- |
| Front Tyres | 6.00 – 16 (6PR) |
| Rear Tyres | 12.4/11-28 (6 PR) |
Weights and Dimensions:
Weights
Gross Weight (with 6.00-16 front & 12.4/11-28 rear wheel and with full fuel, oil, and water): 1,650 kg
Dimensions
Wheelbase: 1,892 mm.
Overall Length: 3,260 mm.
Overall Width (min): 1,651 mm.
Height over Exhaust: 2,145 mm.
Height over Steering Wheel: 1,410 mm.
Turning Circle with Brakes: 5,560 mm.
Turning Circle without Brakes: 6,200 mm.
Ground Clearance (under gearbox): 338 mm.
Standard Equipment
Weight frame without weights
Standard toolbox with a set of tools
Top link, Top link end Cat I & II balls
Check Chains
Spring suspension seat
Flat top fenders
Operator's and service manual
---
Comparing the Massey 240 with Other Tractors
Compare the Massey 240 tractor to its top competitors in the Pakistani market. With the help of our thorough study, make an educated choice! When deciding on a tractor, it's essential to compare the Massey 240 tractor with other popular models in Pakistan. Such as the Fiat 480 and the Belarus MTZ-50. When comparing these tractors, consider the engine power, fuel efficiency, and availability of parts and service centres.
---
Tips for Buying a Massey Ferguson 240 in Pakistan
Explore the latest MF 240 tractor prices in Pakistan, and find out how to get the best deal on this popular model.
Research: Before purchasing, thoroughly research the market prices and options for Massey 240 price in Pakistan.
Inspect: Always inspect the tractor thoroughly if you're buying new or used. Check for any signs of wear and tear, and test-drive the tractor to ensure it runs smoothly.
Negotiate: Feel free to negotiate with the seller for a better price. Keep in mind that the asking price is frequently not the final price.
Buy from a Reputable Dealer: Purchase your Massey 240 from a trusted dealer to ensure you get a high-quality product.
Consider Financing Options: If you cannot pay the total upfront, explore financing options for purchasing a Massey 240 tractor.
Get the best Massey 240 Price in Pakistan at Agricomplex for all your farming needs. Also, with top quality, great price, and excellent service.
---
Maintenance and Parts
Keep your Massey 240 tractor in top condition with our guide on parts and maintenance in Pakistan. Proper maintenance and timely parts replacement are crucial to keeping your Agriculture machinery running smoothly. Always use genuine parts and follow the manufacturer's maintenance schedule. Regularly check the engine, transmission, brakes, and tires for optimal performance.
---
Accessories for Your Massey 240
Please browse our selection of the best Massey 240 tractor accessories in Pakistan.
Enhance your tractor's performance with accessories like ploughs, seed drills, and trailers. Make sure to purchase high-quality accessories compatible with your Massey 240 tractor.
---
How to purchase Massey Ferguson 240 tractor at Agricomplex
Locate reliable and trustworthy Massey 240 dealers in Pakistan with our comprehensive list.
Visit the Agricomplex website or store: Browse the Agricomplex website or visit their physical store to get more information about the tractor's availability, pricing, and financing options.
Contact a sales representative: Contact an Agricomplex sales representative to discuss your requirements, ask any questions you may have, and receive personalized assistance with the purchase process.
Review financing options: Agricomplex may offer financing options for purchasing the tractor. Review the terms and conditions, and select the most suitable financing plan for your budget and needs.
Test drive (if possible): If you can visit the Agricomplex store, arrange a test drive to get a feel for the tractor's performance and ensure it meets your expectations.
Place your order: Once satisfied with your choice, place your order with the sales representative or through the Agricomplex website.
Make the payment: Complete the payment process per the agreed-upon terms, either through a one-time fee or by following the financing plan.
Arrange for delivery or pick-up: Coordinate with the sales representative to schedule the delivery or pick-up of your Massey Ferguson 240 tractor.
Review the owner's manual: After receiving your tractor, carefully read it to familiarize yourself with its features, maintenance, and safety guidelines.
Follow up with Agricomplex: In case of any issues or questions after the purchase, contact Agricomplex's customer support for assistance.
Farmers can purchase the Massey Ferguson 240 tractor at Agricomplex quickly and confidently by following these steps.
---
Frequently Asked Questions (FAQs)
What is the price of the Massey Ferguson 240 tractor in Pakistan?

The Massey 240 price in Pakistan may vary depending on location, dealer, and available offers or discounts. Don't hesitate to contact your local Massey Ferguson dealer or visit the Agricomplex website for the most up-to-date pricing information.
How can I find the best price for a Massey Tractor 240 in Pakistan?

To find the best price for a Massey Tractor 240 in Pakistan, compare offers from multiple dealers or online platforms and consider factors such as location, condition, and financing options.
What is the price range for a 240 tractor in Pakistan?

Massey 240 price in Pakistan may vary; contact a local dealer or check online listings for accurate, up-to-date pricing.
Are any financing options available for purchasing an MF 240 tractor in Pakistan?

Some dealers or financial institutions may offer financing options for purchasing an MF 240 tractor in Pakistan; contact your local dealer or bank for details.
Can I purchase agriculture machinery from Agricomplex online?

You can purchase agriculture machinery from Agricomplex online by visiting their website or contacting their sales representatives. Conduct thorough research and due diligence to ensure the product's quality and suitability for your needs.
Want to learn more about Massey Ferguson tractors? Visit our Agricomplex.com.pk website. Easy and helpful information just for you!
---
Conclusion
When purchasing a Massey 240 tractor, consider the Massey 240 price in Pakistan, inspect the tractor, negotiate effectively, and prioritize maintenance. Research reputable dealers with competitive prices, and thoroughly inspect the tractor's condition and history before negotiating. Regular maintenance ensures longevity and cost-effectiveness. By following these guidelines, you can make an informed purchase, obtaining a reliable Massey 240 tractor for your farming needs.