MF 260 Price in Pakistan | A Complete Overview
Tractors are the backbone of agriculture, and their importance can't be overemphasized in a country like Pakistan. Of all the MF 260 tractor for sale in the market, the tractor stands out for several reasons. This guide provides an in-depth look at the MF 260 tractor Price in Pakistan.
---
What is MF 260 Tractor?
It is a versatile tractor model from the world-renowned manufacturer Massey Ferguson. Known for its power, durability, and reliability. Moreover, it is designed to handle various farming tasks efficiently.
---
Features of 260 Machine
Here are some specifications of the MF tractor:
Engine Power: 60 horsepower (HP)
Engine Type: 4-Cylinder, Direct Injection, Diesel Engine
Transmission: 8 Forward and 2 Reverse gears
PTO (Power Take-Off): 540 RPM
Hydraulic System: Live hydraulic with a lifting capacity of approximately 1800 kg
Steering: Manual Steering
Brakes: Oil-immersed, Multi-Disc Brakes
Fuel Tank Capacity: Approximately 47 liters
Weight: Approximately 1,770 kg
Wheelbase: 2065 mm
Overall Length: 3350 mm
Overall Width: 1750 mm
Ground Clearance: Approximately 390 mm
---
The Popularity of MF 260 in Pakistan
The Farming Landscape in Pakistan
Pakistan's economy is predominantly agricultural. This necessitates efficient farming equipment, and that's where the this tractor comes in.
Why MF 260 is Popular Among Pakistani Farmers
Farmers in Pakistan prefer MF tractor with power steering due to its affordability, efficiency, and ease of maintenance. It is an affordable choice that maintains high-performance standards without compromising quality.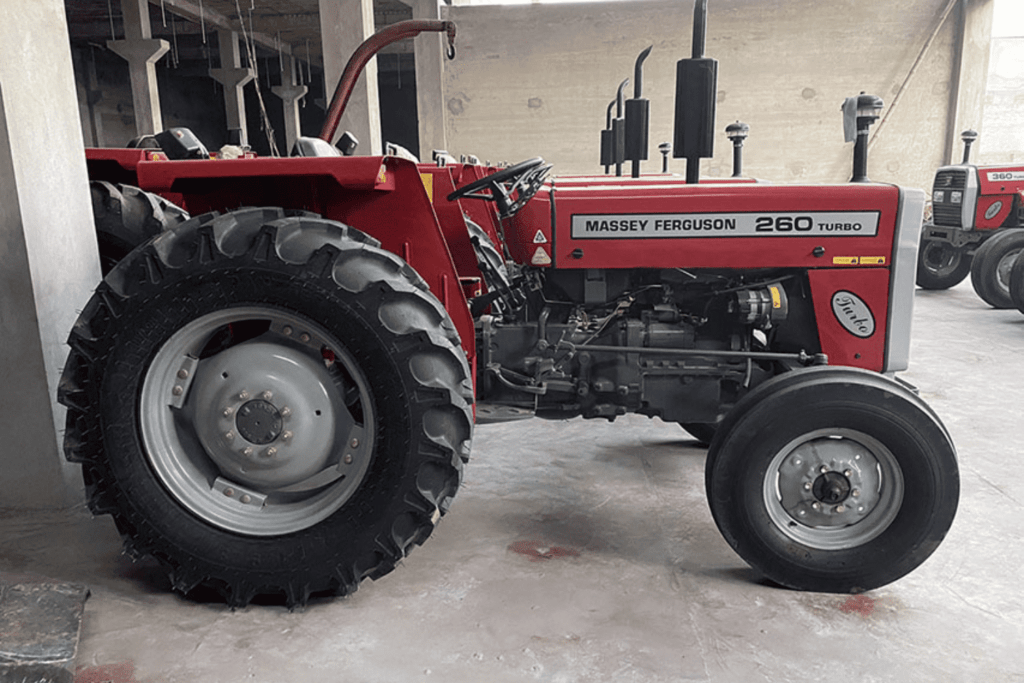 ---
Comparative Analysis Of MF 260 Tractor for Sale
260 vs Other Tractor Brand
When compared to other tractor brands, the 260 tractor holds its ground. Its durability and fuel efficiency often make it a preferred choice.
Price Comparison
While prices vary based on various factors, the Massey Ferguson 260 tends to be more affordable than its counterparts, making it a cost-effective choice for many farmers.
---
Where to Buy MF 260 in Pakistan
Buying From Dealers
You can get MF 260 For Sale from an authorized Massey Ferguson dealer across Pakistan where you can buy MF tractors.
Buying Online
Online platforms also offer the MF tractor for purchase, providing convenient home delivery options.
---
Maintaining Your Massey Ferguson 260
Maintenance Tips
Regular maintenance of your Massey Ferguson 260 machine will ensure its longevity. This includes regular oil changes, checking the hydraulic system, and cleaning air filters.
Where to Get Spare Parts
Genuine spare parts for the MF260 tractor can be obtained from authorized dealers or trustworthy online platforms to ensure the quality and performance of the tractor.
---
Comparison table of MF 260 with MF 375
| Features | MF 260 | MF 375 |
| --- | --- | --- |
| Engine power | 60 horse power | 75 horsepower |
| Fuel Consumption | Efficient | Efficient |
| Seating Capacity | 2 person | 2 person |
| Transmission | 8 Forward, 2 Reverse | 8 forward, 2 reverse |
| Weight | 2,300 Kg | 2,480 kg |
| Price | Affordable | Relatively higher |
| Attachment | Limited Availability | Wide range available |
| Warranty | Provided | Provided |
| Spare Parts | Readily Available | Readily available |
| Versatility | Versatile functionality | Versatile functionality |
---
Pros and Cons of the MF 260 Tractor for Sale
| Pros | Cons |
| --- | --- |
| Affordable Price | Limited features compared to higher models |
| Durable and reliable engine | May lack certain modern advancements |
| Efficient fuel consumption | Limited availability of attachments |
| Widely available spare parts | Limited warranty coverage |
---
Conclusion
The 260 tractor is a testament to Massey Ferguson's commitment to quality and affordability. Its popularity in Pakistan results from its ability to meet the demands of the country's robust agricultural sector, combined with its competitive pricing. Whether you're a seasoned farmer or just starting, this tractor is a worthy investment that will serve your farming needs for years.The Massey Ferguson 260 price in Pakistan may vary and is subject to market fluctuations and specific dealer offerings.
---
Frequently Asked Questions (FAQ's)
How much does the MF 260 price in Pakistan?
The Massey Ferguson 260 tractor price in Pakistan varies based on location, dealer, and the tractor's condition. It is recommended to check with local dealers or online platforms for the most accurate pricing.
Where can MF 260 be for sale in Pakistan?
You can purchase the Massey Ferguson 260 from authorized Massey Ferguson dealers across Pakistan or online platforms offering tractor sales.
How do I maintain my Massey Ferguson 260 tractor?
Regular maintenance tasks such as changing the oil, checking the hydraulic system, and cleaning air filters can keep your 260 machine in top condition.
Is the MF 260 Tractor Price in Pakistan worth it?
Considering its robust features, durability, and performance. Moveover, offers excellent value for its price.
What makes the Massey Ferguson 260 popular among farmers in Pakistan?
The Tractor 260's popularity is largely due to its power, efficiency, and affordability. Its easy maintenance also makes it a preferred choice among Pakistani farmers.
---
---
People Also Asked (PAA):
Where can I find the best deals on MF 260 tractor price in Pakistan?
You can find the best deals on tractor 260 in Pakistan on online marketplaces like Daraz. Pk, Agrithing.com or OLX.com.pk.
What are the features of the Massey Ferguson 260 tractor?
The features of the 260 tractor include a durable engine, efficient fuel consumption, comfortable seating, and versatile functionality.
How does the Massey Ferguson 260 compare to other tractor models in price?
In terms of price, the Massey Ferguson 260 tractor is relatively affordable compared to other tractor models available in the market.
Is there any warranty provided with the 260 tractor?
Yes, the 260 Machine typically comes with a warranty provided by the manufacturer.
Are spare parts readily available for the MF 260 tractor in Pakistan?
Yes, spare parts for the 260 tractor are readily available in Pakistan.
Does the MF 260 come with a loader attachment option?
No, the MF machine does not have a loader attachment option.